Do you want to make some extra money? Try these online proofreading jobs from home. Proofreading jobs are flexible, remote, and often freelance. Here are the best online proofreading jobs for you!
Proofreading online jobs are the ultimate work from home job. It is a crucial part of writing, and you can do it at your own time. Proofreading makes for the perfect second job or side hustle. If you find yourself saying I need money now, this may be for you!
Proofreaders check the spelling of writers who have pre-written content for you. Without proofreaders, many writers would be grammar and style errors in their content. 
Do you think you can become a good proofreader? There's only one way to find out, try it!
In this article, we'll go into how to become a proofreader, how much money you can make proofreading, and the best online proofreading jobs. Let's go!
What Is Proofreading?
A proofreader is one of the last steps in content creation, where someone that makes sure written content doesn't contain grammatical errors. It includes spelling, typography, and formatting. 
You can imagine that many people are looking for proofreaders online. There is so much content published online. The content creators who have published this content need a critical eye to see if there are any spelling or grammatical errors. 
When you are writing your own content, you could accidentally leave small mistakes. You often don't notice them and need someone external to check it. 
Pros And Cons Of Online Proofreading Jobs
There are many advantages and disadvantages of proofreading. The main pros are:
The costs of starting are low. All you need is a laptop and an internet connection.
You can work whenever it fits your schedule.
You can work from the comfort of your home. 
Perfect for someone who is naturally good at spotting grammar mistakes. 
You can start proofreading as a side hustle and expand your business later on. 
The cons of proofreading are:
You need to work on tight deadlines. If you find it challenging to work with deadlines, this isn't for you. 
Your clients will provide you with strict guidelines that you need to follow. 
Your pay can be low in the beginning.
It takes some time to get together a full-time salary. 
Does Proofreading Pay Well?
According to the US Bureau of Labor Statistics, the average proofreader makes around $43,000 per year or $20 an hour. How much money you make depends highly on your education, your experience, and how you get paid. For example, they can decide to pay you per word, per hour, or per article. 
For most online proofreading jobs, you will get paid per article as a freelancer. Depending on how fast you work, you can increase your hourly rate. When you gain some experience and your proofreading speed increases, you can make anywhere between $30-$60 an hour. 
If you're just starting, it would be great to start with a $15 hourly rate and go from there. When you gain experience and get more clients, you can increase your price. 
If you want to have multiple streams of income, check out these other ways to make money from home:
Transcription jobs for beginners & pros – this is making money from home typing. It's not like you're making money while you sleep, but the faster you type, the more money you make! Check it out and see if that is something you want to try. 
Data entry jobs – data entry is a side hustle with a low barrier. You can sign up with a platform and start. If you're looking for a marketplace of jobs, check out Fiverr!
Start testing websites – this is a great side hustle. You can earn money from the comfort of your home, and the pay is not bad at all. You often get $10 per 15 minutes. The only thing is that you need to patiently wait for the opportunities, as many people want to do it. 
Start a blog – blogging is great, and I love it. Start writing about your favorite topic and start your blog using Bluehost for only $3.95 including a FREE domain name ($15 value). They also offer a 30-day money-back guarantee, so what do you have to lose?
Can I Really Make Money From Proofreading Online?
Proofreading takes less time than other writing jobs out there, meaning that they often get paid less starting out. As with any online job, the more you put into it, the more you get out of it. There are people on online platforms charging $100 per hour, the only difference is that they have testimonials and a track record. 
What Skills Do You Need For Freelance Proofreading Jobs?
To be a proofreader, you should be able to see mistakes quickly. Your grammar and spelling skills need to be excellent. Plus, you need to be able to work slowly and carefully read through the documents to spot any mistakes by the writer. 
It all seems obvious, but it's harder than it sounds. You can often read over mistakes without noticing them if you're not paying close attention. 
Do I Need A Degree To Proofread?
Whether your clients expect a degree depends on the client. Some clients will ask for a degree like English or journalism. Other clients require relevant work experience and a good track record. 
If you don't have any degree in journalism or English, don't worry. There are other ways you can get your education in proofreading. 
Where Can I Get At-Home Proofreading Training?
Proofreading isn't just for the people who have studied English and have been passionate about language their whole life. Anyone eager to learn can proofread. Whether you want to be flexible as a stay at home mom, want to determine your hours, or want to work from home – proofreading can help you with that!
If you are serious about becoming a proofreader, there are different courses that you can follow. One of them is Proofread Anywhere, a popular training by Caitlin Pyle, that prepares you for the best remote proofreading jobs out there. Caitlin made over $36,000 per year part-time as a proofreader, so this has some high income potential. 
If you feel like you're feeling stuck and would love to make some extra money, try out her completely FREE workshop. You will learn how to start proofreading, and most importantly, where to find clients. 
How Can I Get Proofreading Work Online?
When you're starting, it will take time to find clients and land your first job. You can save yourself some time by thinking about what clients you want to work with. You can already niche down your search right from the start. There are many options out there, so find the one that fits you best. 
How to increase your chances of getting clients:
Check out online platforms like Flexjobs and Fiverr, where you can find many different proofreading jobs. 
Check out hiring companies. 
Find Facebook groups where you can provide value. Help people by adding value and let them know you're available to help them with any other issues they may face. 
Make sure you follow a course to increase your chances. Start with this online and free workshop. 
Search on Google for remote proofreading jobs. You can search for:

Online proofreading jobs
Proofreading positions
Remote proofreading jobs
Freelance proofreading
Freelance proofreading jobs
Beginner proofreading jobs
Editor
Editing jobs
Editing at home jobs
Copy editing
Content developer
Revisor
Editorial assistant
If you have happy clients, ask for their recommendations and let them know that you're open to more work. Your current clients may find new clients just by informing their friends that they know a great proofreader. 
What Tools Do You Need For proofreading?
All you need is a computer or a laptop with an internet connection. However, some tools will make your life easier, and the process of proofreading faster. Be aware that these are online tools, so you still need to stay alert for mistakes. 
The tools you need are:
Google Docs – the best way to communicate with clients and send your finished work is Google Documents. You can set up a free Google Drive account and go from there. You can edit the work, and your client can make comments for you to resolve. 
If your client doesn't use Google Docs, Dropbox can be a great alternative. Dropbox offers a free account that's perfect for you to get started. 
Grammarly – the best way to edit your work is by checking with an advanced spelling check. Grammarly will scan the document you're working in and let you know if there are any errors. Grammarly picks up spelling and grammar errors. 
Do you want to test your proofreading skills before you check out companies? Caitline Pyle walks you through a quick quiz in her free workshop on how to become a thriving proofreader.
Best Online Proofreading Jobs
Here are the best online proofreading jobs in 2021. Whether you're looking for online proofreading jobs for beginners or already have some experience, check these out!
1. FlexJobs
I love to tell people about FlexJobs! As the name suggests, it's a platform where you can find all different kinds of work from home jobs. If you want to search for proofreading jobs, search Flexjobs for online proofreading jobs to get jobs.
The great thing about online proofreading jobs is that you can do it from the comfort of your home. That way, you can work for clients from all over the world.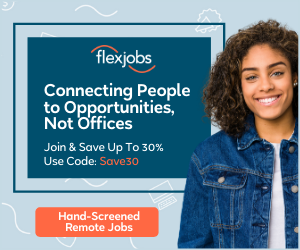 2. Upwork
Upwork is a great place to start when you're starting your proofreader career. It is a platform where clients post the work they need, and you can respond to it. You can choose your clients and projects, which can help a lot in the beginning. 
Create an attractive profile and pitch to the client, and let's go!
3. Fiverr
If you want to find proofreading jobs for beginners? Fiverr is one of the first places to look. Fiverr is an online marketplace where you can find clients that want to buy your services. 
Most services on the Fiverr platform start at $5. Add more services, and you'll be able to charge even more. For example, as an online proofreader, you can add an extra fee for delivery within 24 hours, or you can offer related services like posting the content on WordPress platforms. 
A couple of examples that we found on Fiverr:
Start Earning Money From Fiverr
4. Start Your Own Business
One of the best online side hustles is to start your own proofreading business. You can approach clients by email or set up an entire website where you can connect with your clients.
Starting your own proofreading business you decide your schedule and what clients you want to take on. More than with the other platforms, you can build up your reputation and increase compensation as you gain experience. 
5. Freelancer
Freelancer is a freelance platform that is similar to Fiverr and FlexJobs. It's open to many other gig workers, not only proofreaders. 
Simply fill out your profile, check out the listed jobs, and bid on jobs that you would like to do. 
6. Domainite
Domainite is a good option for the proofreader without any experience. However, they are one of the lowest paying in the field. If you find it hard to land clients or want to build up more skills, this platform is for you.
To apply for the platform, you are required to submit a writing sample that showcases your proofreading and editing skills. 
7. Lionbridge
Lionbridge is well known for the remote proofreading jobs that they offer. If you are looking for other work from home opportunities, this platform can accommodate you. You can look for jobs in various languages and countries. 
Lionbridge has a lot of online proofreading jobs, which makes it simple to take on many jobs to build a full-time income.
When you're starting, know that Lionbridge requires fluency in the language that you want to proofread for. In return, you get a platform with a strong reputation. 
8. Craigslist
Craigslist is great for finding items to flip online, finding under the table jobs, or looking for things you can get to decorate the apartment. Besides that, they also have a job section for writing and editing, which is perfect if you're looking for proofreading jobs. 
9. LinkedIn
Let's not forget about LinkedIn. On LinkedIn, you can publish your resume and target specific keywords. Your clients can find you through these keywords and message you through the LinkedIn platform. 
One way to get attention to your profile is by writing short articles and publishing them on the platform. Writers and employers can see your work and decide if they want to work with you. 
10. ProofreadingServices.com
As the name suggests, ProofreadingServices.com is a platform exclusively for proofreaders. You can work this remote job on your schedule, get good pay, and build relationships with other proofreaders. 
To get the $20-$40 per hour rate, you need to complete a 20-minute test on the website before signing up. 
11. Polished Paper
Polished Paper is a platform for exceptional proofreaders and has a higher hourly rate. To apply to their platform, you need to answer their 35-question test using APA, MLA, and Chicago formatting styles. Learn a bit about these styles before you submit the test to increase your chances of being hired. 
The unique selling point of Polished Paper is the high quality they deliver, which is guaranteed by their extensive application procedure. You can get hired with strong skills, no degree needed. 
12. Guru
Find proofreading jobs on Guru.com, which is another job marketplace. When you are just starting and don't have any proofreading experience yet, this is a great place to look for gigs. 
13. Scribe Media
Scribe Media is a platform that looks for freelance editors to edit books and proofread manuscripts.
Currently, there are no openings for proofreaders or editors. You can check their platform regularly to see if there are open vacancies, full-time or freelance. 
With no experience required, Scribe is the perfect online proofreading job for beginners. Do you have some experience with papers, articles, or essays? It may help to get accepted. 
14. Gramlee
Gramlee is a general proofreading company that always has a couple of proofreading positions open. If you are a grammar lover, this platform is for you. 
On the Gramlee platform, there are always enough work from home proofreading jobs available. You will have enough work to do if you want. However, accept jobs when you have the time to do them. Gramlee gives you 24 hours to proofread a document up to 3,000 words. 
Check out their platform and submit your application online.
15. American Journal Experts
Americal Journal Experts lists specific jobs which are all remote and for freelancers. Wherever you are in the world, you can apply. 
On their website, you can find a list of all job openings and apply for the ones that are best for you. 
16. OneSpace
OneSpace posts jobs when they are available. They offer work from home opportunities as well as real-life opportunities. Read their descriptions carefully before you apply. The tasks on OneSpace are short and related to writing and editing. 
Best Proofreading Jobs For Pros [With College Degree]
Some companies have stricter requirements for their applicants when they apply for a proofreading job. Read closely about the requirements for the jobs and what they're exactly looking for. 
Many of these companies want a college degree in any field, plus some experience in the practical field. Let's check out these companies!
17. Edit911
Edit911 is a platform where you can sign up if you have a Ph.D., are a published scholar, are a teacher, or book editor. You need to show your experience, and their sign up process is generally quite strict. 
If you meet their qualifications, this is a great option for you!
18. Kirkus Media
Kirkus Media is a platform that edits and reviews books. They post new positions regularly, so check the platform to see if they have something. 
Also, they are looking for book reviewers that want to write 350 words on books in all different genres. 
19. SmartBrief
SmartBrief is a digital media company that is frequently looking for new editors and proofreaders. Check out their job opening regularly and find the perfect fit for you!
20. Wordvice
Wordvice is a platform that is for freelance proofreading and editing services. They have many proofreading jobs and are looking for professionals to add to their team. Submit your application, your resume, and complete a sample test. 
You can apply from anywhere in the world to edit articles, theses, or dissertations. They require that you have completed or are currently following a graduate program. 
21. Scribbr
Scribbr is a Netherlands-based platform where students can let others proofread their papers and essays. They are looking for editors that are fluent in English, German, French, Italian, and Spanish. The platform is entirely based on proofreading papers of students. 
Scribbr's selection procedure is quite strict. First, you need to pass a language test. After that, you can submit your resume, and they check it. If you pass this, you get a couple of simulation orders to see how you perform. 
If you've passed these tests, you can become a Scribbr editor, and the money will start coming in. You need to be available a minimum of 10 hours each week. 
22. Scribendi
Scribendi is a large and fastgrowing community of professional editors. They currently offer freelance proofreading gigs that you can do from home. You can set your schedule and work when you want to. 
Scribendi has quite strict requirements. You need to be a native English speaker, have a university degree, 3 years of proofreading or editing experience, and a minimum proofreading speed of 1,000 words per hour. 
If that's you, go to their website to apply. 
23. EditFast
Well for EditFast the name says it all. On their platform, you create an account and put your resume in the system. Potential clients can check out samples and decide who to pick based on that. 
One important side note: at 40%, their commissions are pretty steep. 
24. CACTUS Communications
CACTUS Communications is a platform where you can proofread freelance or on a full-time basis. You specialize in proofread topics, and they require you to have a degree in that specific field. You need to have a degree or experience working in medicine, surgery, or healthcare. 
With CACTUS you can determine your working hours and can earn up to $4,000 monthly. Plus, if the work you deliver is high quality, you will get 20% extra. 
25. Writer's Relief
Writer's Relief is a service that helps writers get published. Their teams cover books, poems, essays, novels, and short stories. It's easy to apply on their site, but be sure to submit your best content. They only accept around 2% of the applicants. 
26. Wordfirm Inc. 
Just like Writer's Relief, Wordfirm Inc. helps writers edit and publish their work. The application process is also strict on this platform, so make sure you make yourself comfortable when filling in the application. 
Wordfirm also required you to have a degree and five years of relatable work experience. 
27. Proofreading Pal 
At Proofreading Pal you can proofread and edit all types of documents. Every document is proofread by two proofreaders, to guarantee high quality. Editors at Proofreading Pal typically earn between $500 and $3000 per month!
Proofreading Pal is looking for applicants who are enrolled in, or employed by, a graduate or postgraduate education in the United States.
28. Editor World
With Editor World, you can get freelance editing jobs from the comfort of your home. They require you to have English as your first language, have a degree, and have some editing experience. 
If you meet their requirements and pass some short editing tests, you will be assigned editing jobs. 
29. Proofread Now
Proofread Now is a 24/7 professional proofreading and editing service. They are occasionally looking for new proofreaders and editors. If they are not hiring at the moment, regularly check on the platform. 
Proofread Now requires you to have at least 5 years of experience, and you will go through several challenging tests. BUT, the moment you get hired, it will be worth it. 
30. Edit Fast
Edit Fast is an online platform for proofreading, editing, and writing services. To apply for their platform, you need to have a degree. Any qualification or experience beyond that is still helpful to mention. 
EditFast has an editing test that you need to submit before you get any work assigned. If you get a positive review, you get your page to get projects assigned. 
31. English Trackers
English Trackers is a platform that offers editing services to transfer your writing to native-level English. Naturally, you need to be a native English speaker to quality for the platform. Besides, you need to have a Ph.D. or be an academic editor with experience. 
How To Qualify For Proofreading Jobs?
Proofreading goes smoother when editing and spotting mistakes come naturally to you. Plus, it is important to have a good understanding of the English language. Even if you have no degree or experience at the moment, there are plenty of proofreading jobs available for you. 
Build up your portfolio and your testimonials, and you will make your way to a minimum of $50 an hour salary minimum. There are plenty of places you can look for jobs, and the demand for online proofreading services only seems to increase. 
If you want to know what is necessary to start proofreading, check out the free webinar from Caitlin Pyle, who runs Proofread Anywhere. She will go into how to improve your skills and how to find clients. 
With the costs being so low and the payoff being so high, why not give it a try?
Start your proofreading career today, by signing up for the FREE workshop of Proofread Anywhere. Find out exactly how to improve your proofreading skills and get your first clients.
Summary – Best Online Proofreading Jobs
Proofreading can be the perfect job for you if you enjoy working from home, want to have flexible hours, and can spot spelling and grammar mistakes quickly and easily. Proofreading can be a perfect job for stay at home moms, stay at home dads, students, or anyone who would like to earn some extra money. 
Turn your online proofreading job into a career or legit side hustle by following the free webinar from Proofread Anywhere. 
Do these online proofreading jobs attract you?
Radical is a financial consultant that has built up over €170 monthly passive income and saves over 70% of her income. Read Radicals' inspiring story, from stuck in the 9-to-5 to loving life. Feel free to send Radical a message at the bottom of this page