Do you find yourself saying I need money now? There are a lot of ways to get cash quickly and make money fast. Try a couple of them and see how you like it!
The world has dramatically changed over the last couple of years. People all over the world are saying I need money now. 
You're not alone. Many people face these situations. Luckily, there are a lot of ways to make money fast and get cash in your pocket as soon as possible. 
Best Ways When You Need Money Now
Do you need cash now? Here is a list of things you can do to make money in just a couple of hours. 
If you're looking for the best side hustle ideas long term, many of these suggestions can help you with that. I've used #1, #2, #4, #5, #11, #13, #15, and #16 to increase my income over the years. 
The best thing about these ideas is that you can do some of them while you're waiting in line, riding the bus, listening to your favorite rap song about money, or on your couch watching TV. Let's go!
1. Find Under The Table Jobs
Many jobs will pay under the table, which is just what you need when you need money now. You want to get paid quickly and within 24 hours. Filter these under the table jobs near you, and you will have cash in no time!
2. Take Online Surveys (+ Sign Up Bonuses)
When you need fast cash, answering surveys online is the way to go. You simply sign up and take a couple of surveys. 
The top survey sites are:
Swagbucks – get $5 free when you're creating a new account and collected enough points. Get paid in gift cards or cash. Also, make money through shopping, playing games, or watching videos. Read our entire Swagbucks review here.


Inbox Dollars – free $5 sign up bonus plus you can just surf the web and get paid. 
American Consumer Opinion – available worldwide.
MyPoints – get $5 free when you finish 5 surveys. 

Survey Junkie – make up to $45 per survey.

Vindale Research – make $1-$5 per survey.
Read more about the best survey sites for money now. 
3. Acorns
When you want to make $5 for downloading an app and creating an account, Acorns is for you! 
Acorns is an investment app that invests your money by rounding up your purchases on your card. While starting to invest your first dollar may seem complicated, Acorns makes it very easy. They ask you a couple of questions about your risk tolerance to get started. 
Acorns has no minimum investment amount to get started. Sign up and get your $5 bonus.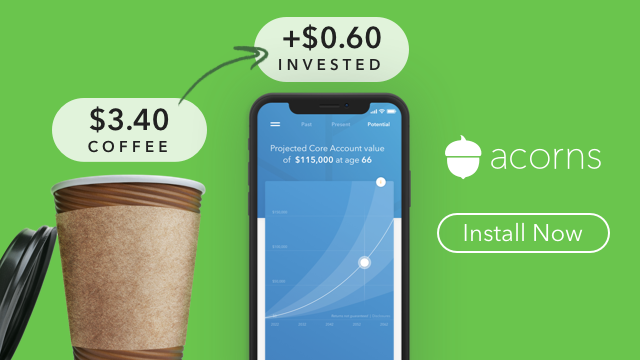 4. Unused Internet
If you're looking to make free money 100% passively, you can sell your unused internet bandwidth. You get paid around $50 a month with absolutely zero effort through Honeygain.  
With Honeygain, companies can use your unused internet bandwidth for their heavy software. Think about a content delivery network (CDN) or SEO monitoring services (like Moz). They need bandwidth all over the world, and you are providing that. You only share your internet bandwidth and nothing else. They don't track or log your data.
Your payment depends on how often you activate the app and how many devices you connect. Generally, you get $1 per 10GB transferred. 
Let your unused internet bandwidth make money for you, completely passive. If you use our signup link, you will get $5 free credits!
Try Honeygain Today ($5 Bonus)
5. Negotiate Your Bills
Negotiate every bill you have. You can negotiate your cell phone fee, car insurance, credit card fees, utility fee, and more. 
The only thing you need to do is call them and ask for it. 
Call the company and tell them that the plan is getting more and more expensive. Ask them if they have anything else they can do for you. If there isn't, ask to cancel your contract or tell them you will call back later. 
You can call back right away and try again, as there is often another person who will pick up. Just try again with a couple of different approaches and see what works. 
Be polite on the phone. If you lose your patience, they will be less likely to help. 
If you are talking to the cancellation department, know that they will want to keep you. It is your cue. Tell them about any other offer that you can get from their competitor. Tell them: I am a loyal customer of [Company X], and I would like to stick with you. To do that, I need to get a better deal. What can you do to offer me this plan for less money?
Important to note here: don't ask yes or no questions, as they are easier to decline. Instead, ask for their input and get them to think in favor of your current situation. 
Tip: there is an app for that, called Trim. Trim is an internet assistant that helps you save money. It cancels your subscriptions, puts in place spending alerts, and more. 

6. Drive With Uber or Lyft
We all know that driving with Uber or Lyft is a side hustle that will get you money now. All you need to do is get in the car and start driving. 
Lyft currently has an Earnings Guaranteed program, where drivers will get a guaranteed amount within a specific time frame. If you don't make that amount, Lyft will pay the rest!
7. Deliver Food
When you're in that I need money now mode, delivering food can give you exactly that. If you have a car, scooter, or regular bike, you can start delivering food with Doordash or PostMates. They both pay daily, which is ideal if you need money now. 

8. Work On Fiverr
Advertising any high income skills that you have on Fiverr is a great way to earn some extra $$$. Skills like software development, design, and SEO are popular on Fiverr. 
Set up your profile with Fiverr and receive your first couple of job requests. When you're delivering good quality, you can get ongoing jobs that will bring you money consistently. No more worrying if your debit card is going to decline.
9. Teach English Online
Teaching English online is a great work from home job, plus it will provide you with quick cash. All you need is good English, a laptop, and an internet connection. 
If you've taught English before, VIPKid is a great option. They provide you with reliable and fair pay. If you don't meet their criteria, try your luck through Google or Facebook groups.
10. Borrow From Friends
While it is not my personal favorite, it will get you money quickly. 
Just make sure you write down all your agreements on paper, to the nitty-gritty loan terms. It is crucial to manage expectations and to avoid any kind of conflict. 
If you need a little more help or motivation, you can also arrange this through Venmo or Cash App. It can make more sense, depending on your situation. 
11. Babysit
Babysitting is a great way to earn some cash when you need money now. Ask around at your friends and family, or place an ad online for a babysitting gig. Anything will help when you need cash now. 
Babysitting is relatively simple to do, and it can earn quite good money. 
In my experience, babysitting is one of the best ways to make money as a kid.
12. Dog Walking
Dog or animal lovers dream of making money by spending time with dogs. Dogs are expensive pets to have, and now you can even make money to spend time with them!
A great dog walking or petting sitting app is Rover. Rover connects you with pet owners that need someone to walk their dog or sit their pet. You could also sit pets for an extended period while their owners are away on holiday, for example.
You can make around $20 per walk or $30-$50 for an overnight stay. 


13. Sell Stuff Around The House
We all have things lying around in the house that we don't want anymore, right? Try to sell it! 
By selling a couple of things around the house, you can earn good money. Especially when you sell items like electronics or furniture, you can earn some extra cash. 
If you need some inspiration, check out here which items to sell around the house. 
Another way to sell items around the house is to go to Facebook Marketplace. Many people are looking for new and secondhand items, meaning that you can quickly make some cash off of them. 
All you need are good photos, a fair price, and the right buyer. 
When you're trying to sell your items but things are not going as planned, there are probably some things you need to change. Check if your photos are of good quality, your price is too high, or there is demand in another market. 
[Related Read: 5 Things To Do When Your Items Don't Sell] 
14. Garage Sale
Not everyone enjoys selling their stuff around the house online. It takes a lot of time, you need to pay for packaging, and there may be other fees involved.
When you're selling through a garage sale, you are making the selling process a lot quicker and easier. When you're decluttering your home, it's hard to stop once you've started. You will come up with a LOT of things you want to sell. 
Pro tip: list your garage sale on Facebook Marketplace or Craigslist to attract more attention to it. 
15. Flipping Items
When you need money now, you could flip free items of Craigslist and Facebook Marketplace. Many people just want to get rid of their stuff, and they're happy when someone comes and picks it up. 
Check here for the best items to flip for a profit. 
16. Affiliate Marketing
The majority of businesses have an affiliate marketing program that you can join. With that program, you will make a small commission when someone buys a product or service through your link at no additional cost to them. 
Making money with affiliate marketing can be through friends and family, online forums, directly on social media, or through a blog. 
Some of the most profitable affiliate marketing programs:
Amazon
Awin
Shareasale
Flexoffers
While it is possible to do affiliate marketing without a website, it would be faster and more profitable if you have one. We made a guide on how to start a blog, including tips on how to make money blogging. 
Affiliate marketing is building up over time. For example, we're making hundreds of dollars every month with affiliate marketing, completely passive. It is hard work to build it up in the beginning, but everyone can do it.
Do you want to know more about affiliate marketing? Michelle from Making Sense of Cents makes over $50,000 monthly with affiliate marketing. She knows her stuff about affiliate marketing and wants to share her knowledge with the world. 
Want to learn about affiliate marketing in bite-sized pieces? Want to know how Michelle makes tens of thousands of dollars monthly with affiliate marketing? Check out her course Making Sense of Affiliate Marketing. Or go here for a full review of the affiliate marketing course.
START EARNING $$ NOW

17. Start A Retail Arbitrage Business
Many people are starting a retail arbitrage business nowadays. With retail arbitrage, you buy products on clearance in stores and resell them for a higher price online.
You can start this by going to a Walmart, Target, Ross, or TJ Maxx in your area and look around for items that are on clearance. Check what price you can sell it for online, and make a nice profit. 
If you're focusing your business on Amazon, that simplifies things. They have their Amazon Seller App where you can see exactly how much fees and shipping you will pay. Plus, you can send your items to an Amazon warehouse in bulk, where they will take care of the shipping. You don't have to interact with any clients on a one-on-one basis.
18. Run Errands
When I was younger, I did some small tasks for my parents or neighbors. There are many things that you can do that others would happily pay you for. You can pick up groceries, fix small things around the house, shovel snow, mow lanes, and much more. 
As your neighbors and friends if there is something they need. You can also put an ad on the board of the local supermarket or online. Once you have a couple of people you regularly visit, you will get more things through word of mouth. 
Another great way to get started is to work with Instacart. You pick up groceries and deliver them to people's homes. You can choose your own hours and stay flexible that way. 

19. Recycle
Many things can make money instantly, including recycling. By simply building up the habit of separating your glass and plastic bottles from the rest of your trash, you can make some fast cash when you need it.
Take your stuff to a recycling center and get your money back. 
If you want to scale up, you can ask your family or friends if you need to take something for them. 
In addition to glass and plastic bottles, you can recycle aluminum, copper, and steel. Go to the local scrap metal center and get some cash for it!
20. Ask For A Raise
In my opinion, people ask for a raise far too little. If you're doing your job, that means you're bringing more in than you're costing. If you're doing your job well, that means you could probably ask for a raise. 
Asking for a raise can be something you don't look forward to. Being underpaid is harder. Don't know how to ask? Here's how to ask for a raise & get it!
21. Sell Your CDs & DVDs
Do you have a lot of CDs or DVDs lying around the house that you don't watch or listen to? You can sell your CDs and DVDs online through platforms like Decluttr. 
Simply visit the Decluttr site, enter the barcodes, and they will show you within seconds how much they will pay for the item. The more popular your item, the more it will sell for. Decluttr buys CDs, DVDs, games, cell phones, and even Lego. 
The great thing about Decluttr? They take care of the shipping, which means that you only need to print a label and don't need to pay for the shipping. Once they receive your item, they will pay you immediately. 
While you won't make as much money as when you're selling it directly, you don't have to put any effort into selling your items.


22. Proofreading
Proofreading is another way to make money when you need money now. Are you good at discovering typos and correcting grammar? Try proofreading!
Caitlin Pyle of Proofread Anywhere actually left her day job to become a full-time proofreader. She has created a great free training that you can follow to get started!
Caitlin's free course covers all the basics that you need to know to get started. Invest an hour of your time in this free training and learn everything about starting your own proofreading business.

23. Take On Freelance Writing
Are you a good writer that wants to make some quick money? Take on some freelance writing on the side. Writers with great skills that can produce a researched article, can charge anywhere from $50-$150 per article.
If you want to make a consistent side income from writing, it is best if you become a regular contributor on a website. Research some top outlet on a niche you're interested in, and see if they are looking for quality writers.
When you don't have such a big portfolio yet, it is great to build it up writing for others. This can be done through services like Fiverr. You will start out earning less, but when you build up your portfolio you can start to charge more.
I Need Money Now – FAQ

How Can I Make $100 Fast?
All of the ideas above should allow you to make $100 fast. With one of the many gig economy jobs, like proofreading or delivering food, you should be able to make $100 a day. When you're signing up for survey websites or cashback websites just for the bonuses, it may take you a little longer to get the $100. 
How Can I Get Money Fast Without A Loan?
Try any of the above quick ways to get cash when you're thinking I need money now. Things like dog walking with Rover, driving for Lyft or Uber, selling items online with Decluttr, working with Instacart, or proofreading will get you money fast without a loan. 
How Can I Get Free Money Now?
Do you want free money now? Check out these platforms where you get a signup bonus using my link:
Conclusion – I Need Money Now
When you need money now, there are dozens of ways to get it. Be sure to choose something that you enjoy and that you can do in the long term.
What are your go-to ways if you need money now?
Like this post? Save for later!📌
Radical is a financial consultant that has built up over €170 monthly passive income and saves over 70% of her income. Read Radicals' inspiring story, from stuck in the 9-to-5 to loving life. Feel free to send Radical a message at the bottom of this page