Are you spending a lot of time on Pinterest? Do you want to be able to automate this? Tailwind is the app for that. In this Tailwind review, we will go into all the details you need to know!
Pinterest. Yeah, I do have a kind of love-hate relationship with the platform. I love the platform when using it for private purposes. Checking out the latest Halloween costume ideas, finding inspiring quotes, or getting some meal plan ideas.
But when you're using Pinterest as a marketing tool for your business or blog, it is an entirely different story. That love turns to hate. Let me explain.
I've been trying to learn about Pinterest since I started blogging two years ago. Trying to grow my monthly traffic and trying to grow my blog. I have done everything.
From manual pinning at strange times, getting into group boards, creating my boards, creating Pins, and more manual pinning, these are the steps I have taken in relation to Pinterest.
It is just the beginning.
While I was putting a lot of time into the platform, I couldn't get my desired results. When I heard about Tailwind as a Pinterest and Instagram scheduling tool, I decided to try their free trial. I haven't looked back since.
I love Tailwind, and it has helped me get to the level of Pinterest pageviews of 100-150 per day. Before using Tailwind, I was lucky if I got 5 page views coming from Pinterest.
Tailwind is not for everyone. It depends highly on your situation. Let's get into details and see if Tailwind is for you!
What Is Tailwind?
Tailwind is a scheduling tool for Pinterest. More specifically, it is a one-stop-shop for you to distribute your Pins across the platform and get more traffic towards your website.
On the Tailwind platform, you can:
Upload images from your computer with one click.
See the optimal times to pin your Pins.
Schedule your Pins to go out on those optimized times.
Analyze how your profile and ins are doing.
See your most popular Pins.
Collaborate with new audiences through Tailwind Communities.
Recently Tailwind added Instagram to the mix, which is something that we're not using. Therefore we will stick to Pinterest for this Tailwind review.
Within Tailwind, you can schedule Pins to go out at preset times per day, republish content with Smartloop, and even schedule Pins straight from Pinterest with their plugin. When you've read the Four Hour Work Week, you know automation is crucial to your platform's growth. Tailwind does that for you. You post the Pins to your personal boards at your optimal times, making sure plenty of people see your Pins.
As you can see, I'm filling my Tailwind schedule with both Smartloop Pins (evergreen content) and distribute my new Pins over my boards.
My optimal pinning times are when I'm still asleep, between 1 and 5 am. Tailwind makes sure that my Pins get posted when most people see them, giving me traffic and additional reach on Pinterest.
Start your free trial here & get $15 off if you decide to join.
Scheduling And Publishing
Switching to Tailwind has helped me free up a lot of time that I can now spend doing other things that will further grow my blog.
Before Tailwind, I was pinning when I was thinking about it. Some days I completely forgot and didn't pin for days. As a result, my engagement would be all over the place. Tailwind brings some consistency with it that I enjoy.
It's simple to add content and schedule it. Click "Upload Images" like in the picture below, and you're good to go.
What I like about Tailwind is that you can batch-schedule once a week. You only need to do Pinterest once a week instead of thinking about it several times per day.
You can add the description, website link, title, and your boards when you're editing your Pin.
If you're adding more boards you want to schedule it to, this is great! Why? You can use the interval setting on Tailwind. With this setting, you can organize your Pin across different boards when you want.
The below image illustrates how you schedule your Pins to go out every 2 days.
Tailwind will pin every 2 days and tries to get the closest time slot to your desired time. You click "Schedule," and you are pinning the Pins to different boards on different days!
Tailwind Web Browser Extension
Tailwind also has a convenient extension for the web browser to save images from any website to Tailwind. Click on the extension and save the desired images to Tailwind if you're on a specific website.
The good thing is that you don't need to save your Pin to different boards simultaneously. You can use the schedule button and schedule your Pins out with an interval between 12 hours or 90 days between each post.
What Should My Tailwind Schedule Be?
Tailwind uses a smart scheduler to check at what times you get the most engagement on your Pins. They will suggest those times to you when you want to make a Pin schedule.
It looks like this in Tailwind:
The green ones are the time slots that Pinterest suggests, and we have added them to the schedule. The white ones with the dotted line are smart suggestions that Tailwind offers. When you add those to your schedule, they will become green too.
Conveniently, Tailwind figures out what is the best time to post for you. As you're starting, you don't know what your best post times are. It helps a lot.
The grey ones are manually added timeslots.
You can continuously change your schedule, depending on what you want and how many Pins you want to post every day. When you've used Tailwind for a while, you can recreate your schedule and optimize posting times.
The purple, blue, and green arrowed timeslots are smart schedule Pins. It means that you will post Pins from your smart schedule to your feed at those times.
Analytics And Performance
As a personal finance nerd, you bet I enjoy the analytics and reports they offer at Tailwind.
You can see how your account performs with the "profile performer." Here you can see how many followers you've gained, how they interacted with your profile, your total Pins, your total repins, and comments.
Besides this, they also have board performance, where you can see how well your boards are doing. You can see the repins, likes, and shares of your different boards.
It is a great tool to analyze which boards are performing and which boards you are better off leaving alone. It does work for your group boards as well!
Lastly, there is the Pin inspector. With the Pin inspector, you can see how each Pin is doing. You can see repins, comments when they were posted, and more.
My Favorite Feature: Tailwind Communities
With Tailwind Communities, Tailwind wants to encourage you to share the content of others. While you can find high-quality content to share with your audience, you get your content shared simultaneously.
I LOVE Tailwind Communities. It is a great way to share other people's content and drive traffic to your blog posts and other blogs.
What Are Tailwind Communities?
Tailwind Communities is a community where people share Pins with each other. Without spam, to help each other. Communities provide high-quality content that you can share with your followers. Tailwind Communities also helps get your best Pins to people looking for them at the perfect time.
Watch the video tutorial to master Tailwind Communities below.
How To Find A Tailwind Community?
With over 5,000 Tailwind Communities to choose from, there's a community out there that fits your niche. You can find a community by searching for a category or keyword.
For example, when you search for blogging, you have over 500 communities you can join.
My Experience With Tailwind Communities
My Pins have been shared with Tailwind Communities many times. It's incredible how much reach you can get.
The majority of the Tailwind Communities are focusing on mutually beneficial relationships. There is mostly a 1:1 ratio for how much people can add (your Pins) and share (Pins of others).
With Tailwind Communities, new people get to see your Pins. That is how you grow your audience effectively.
After using the platform, these are my results:
As there are many big players in the Tailwind Communities, small bloggers can benefit from that. For example, here's how much reach I got by adding 2 pins to communities. That reach is much harder to get from Pinterest alone.
It shows that when you're a blogger trying to grow your Pinterest reach, Tailwind Communities is a great way to increase that. There are many big players in the communities that are willing to share your Pins.
Tailwind Pricing
When you have a regular blog without multiple team members, the Tailwind Plus plan for $9.99 per month should be enough for you.
Tailwind is trying to upsell you. They only allow you to access 5 group boards and submit 30 pieces of content to those group boards every 30 days.
While getting 30 pieces of content every 30 days can be enough, it's not too much if you're in multiple group boards. If you want to take the Tailwind Communities' full benefit, I suggest you check out the Tailwind Communities Max Power Up.
Ultimately it's all about how much you are using Pinterest and Tailwind to see whether this is worth it for you or not.
I recommend trying it out with the free trial that gives you up to 100 Pins on Pinterest. If you enjoy that, take the basic plan for $9.99 per month. As you become more familiar with the platform and your account grows, you can decide whether or not Communities Max Power Up is worth it for you.
Start your free trial here & get $15 off if you decide to join.
Is Tailwind For You?
The most important thing to know before you decide is to ask yourself if Tailwind is for you?
I don't like the people who scream from their rooftops that Tailwind is the way to go for all the new bloggers.
It would be best if you did a couple of things before buying Tailwind and calling it a day.
First, you should focus on getting quality content so that you can make Pins. If you don't have much content on your website, how can you schedule 25 Pins per day for Tailwind? Or even 30 per month on Tailwind Communities?
You must know what is best for your situation. When you're just starting, building a solid blog is the most important thing to do.
Second, think about what you're getting out of it. Traffic-wise, how much traffic would you need to get to your website to earn back your Tailwind investment?
The reasons why I am buying Tailwind is to:
Up the monthly sessions to join another ad network besides Google Adsense
Automate my Pinterest and can only check on it once a week
Besides that, I'm sure that I can get a profit at the end of the yearly plan because of the extra traffic coming my way.
If it makes sense in your situation, I would suggest buying Tailwind. If it doesn't make sense and the price is too high for you, try again later or don't bother at all.
Start your free trial here & get $15 off if you decide to join.
Tailwind Results
Here are the results others are experiencing!
How To Get The Most Out Of Tailwind
To get the most out of Tailwind, there are a couple of things that you can do. Here are the tips and tricks I have adopted since I started using Tailwind almost a year ago.
Time Efficiency: Do Everything In Bulk
To increase efficiency and to get the most out of Tailwind, do everything in bulk.
I'm usually on weekends, spending 1-2 hours on Canva and Tailwind combined.
Canva is a free website where you can easily make graphics. It is perfect for creating your Pins for Pinterest.
The thing that makes Canva useful is its Copy function. You copy an existing Pin, and you can change an image or the text. After that, you have a completely new Pin. With that tactic, you can create your Pins quickly and easily.
When you have created the Pins in Canva, it's time to schedule them in Tailwind.
I upload all the Pins simultaneously, and I schedule them in Tailwind for the upcoming weeks.
If you're doing it this way, you're not spending more than 2 hours per week managing your Pinterest account with Tailwind. I enjoy it.
Join Tailwind Communities
Tailwind Communities are a relatively simple way to up your reach. Especially as a new blogger, accounts with a big following will share your Pins and help you increase your audience.
Join Tailwind Communities and share the content of others. Also, when others share your content, always share theirs in return. I am going back and forth with several people resharing each other's content for months now. It's great!
Analyze Your Tailwind Performance
Tailwind has extensive analytics tools that can help you discover what content your audience loves. The moment you know what kind of content your audience loves, you can make more of it to increase your reach.
With your Tailwind Communities, it is important to analyze which boards are performing well. You only have a select number of Pins to the communities, and you want to have maximum reach. Go to the Communities Insight tab and see which communities give you the most reach.
Optimize Marketing Efforts
If you are a small business trying different social networks to connect with your audience, Tailwind is a great way to optimize brand awareness. As a marketing platform, Pinterest is an all-in-one media platform. Optimize your social strategy, manage your social channels, and track your clicks.
How do you use digital marketing to market to potential customers?
Edit your Pin descriptions. As Pinterest is a search engine, it is important to use messaging that fits your online presence.
Schedule posts in your Tailwind queue to save time and go out at optimal times for your audience.
Use hashtags that your audience searches for.
Ignore your number of followers. Social engagement is a much more powerful tool to grow your business.
Tailwind Free Trial
Everyone can get a Tailwind free trial without a time limit and payment details. You can schedule up to 100 Pins from Tailwind.
When you have published 100 Pins to Pinterest, you can decide whether or not you want to get the plan.
Start your free trial here & get $15 off if you decide to join.
Tailwind Pros And Cons
Before we conclude, here are the pros and cons of Tailwind to give you more summarized details of the application.
Pros of Tailwind
User-friendly
Saves you time as you can create multiple posts using Browser Extension
Gets you more traffic with Tailwind Communities
Smart Loop helps you pin at optimal times
Provides analytic reports on how well your boards are performing
Cons Of Tailwind
Scheduling tends to be slower, especially if you have many Pins that are scheduled.
Upgrades cost more for you to enjoy Tailwind's extra features.
To Sum Up – Tailwind Review
Tailwind is a helpful marketing tool that takes the time commitment out of posting on Pinterest. With their analytics boards, the Tailwind Communities, and scheduling tools, you have the potential to drive more website traffic.
And this is what you want, right? To bring your business to the next level, Tailwind might be that x-factor that takes you to the top. It can provide you with that additional boost for your business.
As mentioned, Tailwind is not for everyone. Determine your situation first and if you think you are ready, then try Tailwind as this will help you drive more traffic and save more time.
Sign up for Tailwind now and experience its benefits.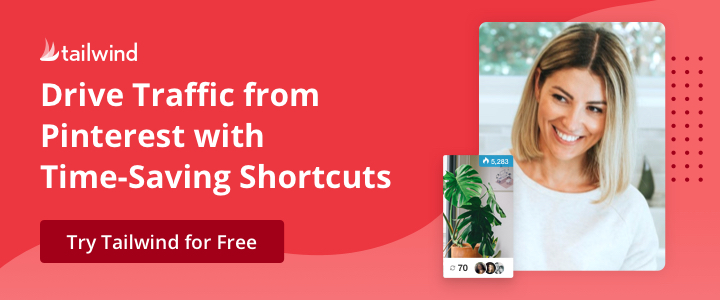 Have you tried Tailwind? What is your experience?
Founder of Spark Nomad, Radical FIRE, Journalist
Expertise: Personal finance and travel content
Education: Bachelor of Economics at Radboud University, Master in Finance at Radboud University, Minor in Economics at Chapman University.
Over 200 articles, essays, and short stories published across the web.
Experience: Marjolein Dilven is a journalist and founder of Spark Nomad, a travel platform, and Radical FIRE, a personal finance platform. Marjolein has a finance and economics background with a master's in Finance. She has quit her job to travel the world, documenting her travels on Spark Nomad to help people plan their travels. Marjolein Dilven has written for publications like MSN, Associated Press, CNBC, Town News syndicate, and more.