Are you a bargain hunter? Do you love to auction things, bid on saleable items, or trade? If so, then DealDash is your site. In this DealDash review, we'll go into exactly how to use this kind of online auction website to get the best deals.
Auctions have been around for ages. They continue to stand the test of time and keep up with the technology and the internet. Today, you can just visit a website and start earning, buying, or selling items to make extra money.
Auction websites now offer online auctions and online bidding for anyone looking for auction items or collectibles that they may be interested in. No longer is this process reserved for live auctions. Now auction bidding can be done at the tip of your fingers and at the comfort of your own homes.
DealDash is one of the biggest auction sites for you to get anything you need. To know more about the DealDash site, keep reading and immerse yourself in the world of the auction!
What Is DealDash?
DealDash is a bidding site founded by William Wolfred in 2009. It runs an auction-based business model where it auctions products that you can buy below the market price.
It was built from an unforgettable experience that William had encountered when he lost the $20 bidding for a Macbook in a penny auction site.
Together with all the money he had saved, William created his own auction site where customers could enter a bid. Each customer would pay for each bid regardless of whether they are successful.
Each bid the customer places on the site increases the price of the item until the auction ends. After it ends, the item will be given to the highest bidder. This auction system they created ensures buyers and sellers that they can get a good deal on auction items they want to buy or sell.
DealDash's financing led to a youth program of Takes, which is a public funding agency in Finland. They have established different projects such as Finnish Youth Research under the government program in 2015.
They also started providing employment, training, and customized service for young people, and in 2012 they created the "Youth Guarantee" program. They raised $1.5 to $2 million. Later on, the CEO of Rovio entertainment expanded the funding.
Here are some reviews and testimonies from their customers from DealDashReviewed.com:
How DealDash Works?
DealDash is a penny auction site and works differently than other penny auction sites, bidding sites, auctions online and other platforms. Their price increases by one cent when someone makes a bid. This means that DealDash often has a much lower price than the market price.
Once the customer places a bid, it's not only the price increases but the time too. The clock gets an extra 10 seconds. The only person who can purchase the item is the one who has the highest bid when the clock reaches zero.
Before you can start bidding on DealDash, you have to purchase the bids. What are bids? The bids are what you have to buy to begin bidding. It has no exact price and sometimes costs you more or less depending on the product you want to bid on.
But how do you use it? It is simple to use the bids to bid on the items. Placing a bid will ensure you have a chance to win the item on the site.
To prevent customers from having a loss, DealDash made it possible for customers to purchase the products by buying it now, usually known as BIN price. By buying the item now, you'll get a refund of all the bids that you've spent. It's a too-good-to-be-true method that ensures customers don't lose completely.
By doing this, customers who use DealDash buy items at a retail price. It's a win-win situation for both DealDash and customers. It's an auction experience that you would really want to be part of, right?
How Does Bidding Work On DealDash?
How do you bid on DealDash? Go to the listing items, then click the icon labeled "Bid Now." You have to purchase the bids first and then use them on the auctioned items on DealDash. After you have placed your bid, you will notice the changes in the price and time.
DealDash has a feature called "Bid Buddy," where it helps you to bid automatically. It lets you set how many bids you're willing to make on an auction product. Then the service places your bid in order to help you win the auction.
Be sure to calculate the money spent on bids into the total cost of the items to make sure that you are actually saving more money than spending. If you win the auction, you'll get to pay the final price for the item, and the cost varies based on the bids placed.
This shows that each bid made from a different bidder adds an additional cent on top of the costs of the item. And if you lose the auction, another option is to buy the item anyway.
If you decide to purchase the item, you'll get a refund of the bids that you have placed on the product in the first place. For instance, if you bought bids at $0.20 per piece and lose on the bidding after putting 10 bids, you'll get $2 back once you buy the item after the auction.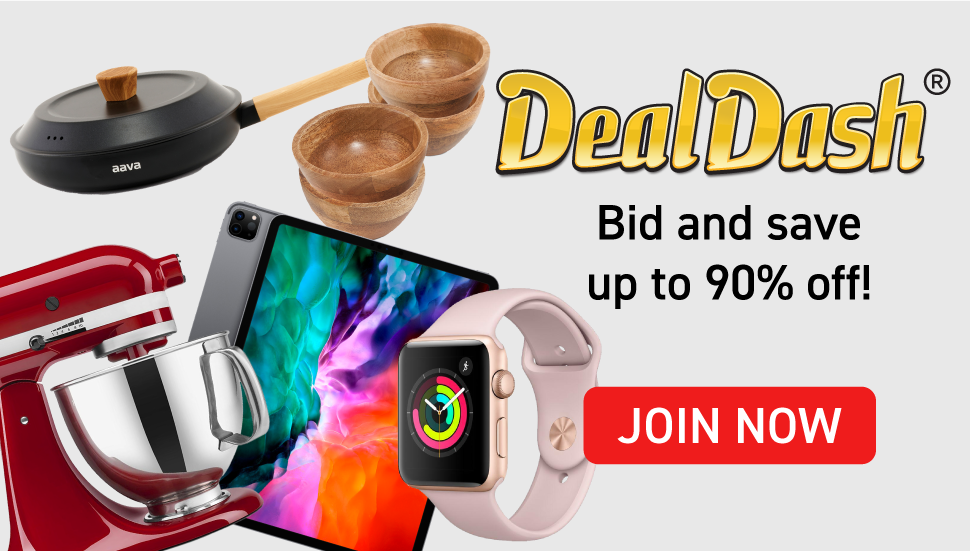 DealDash Auction Features
Other than the services offered by DealDash, there are many features that you can enjoy and use when partaking in an auction on DealDash.
Here are some of them:
DealDash Bid Buddy
Bid Buddy is an automated bidding service that allows you to set how many bids you want to put down on the product you select. Meaning, Bid Buddy will do all the work for you. No more checking on the listing every now and then.
These are useful tactics to help save a lot of your time.
Bid Buddy will work on your behalf and ensure that you'll get the item you want. It's like you are still logged onto the site without having to be actually on the site.
DealDash Free Bids
Free bids are one of the best special features of DealDash. How do you get free bids? You can get free bids by winning auctions and by upgrading your level on DealDash. Save up and get those free bids so you can use them for your auction bids after.
DealDash Badges
It's not just in the Roblox game that you can get badges but on DealDash too. You can earn badges by finishing up tasks, winning a particular bidding number, giving feedback, getting second place on the auction, and more.
Getting badges on DealDash earns you recognition on the site and lets you make free bids. And we love things that don't cost any money.
DealDash Promotions
Auction sites seldom provide promotions, but with DealDash, you get to enjoy different offers with its auction. One of the popular promotions is the 50% off deal. Using this deal lets you pay only half of the final bidding price if you win the item. With this deal, you can get more savings if you play it right. Getting the item at this discounted price from the fixed price or current price is a steal and it can save you a lot of money.
Products That Auction On DealDash:
Here are several products that can be sold or bought on the DealDash site:
Apple devices
TV auctions (LED, LCD, Plasma, UHD, 4K, and more)
Tablets
Cameras (SLRs, underwater cameras, and more)
Liquidation items
Bid packs
Small home appliances
Fitness (running shoes, dumbbells, racing bikes, and more)
Toys, Kids & Baby (cribs, bounce houses, LEGOs, etc. )
Gift cards (all varieties of restaurants, gas cards, Amazon, etc.)
Camping and Outdoor Items
Tools (drills, saws, and more)
DealDash Payment Methods
DealDash has a lot of payment methods you can choose from, such as American Express, Mastercard, Visa, and Discover products. In addition, you can also pay using PayPal.
The good news for people who live outside the state of Minnesota or Illinois, you don't have to pay sales tax on products on the site.
How Do You Win On DealDash?
To win on DealDash, you will have to buy bids in small or fair bid packages. Prior to bidding, you have to check out the products that bids sell.
Verifying products first will help you determine how many people will bid on the item and if the items are on sale or on promotion, which means it can attract more people to the auction.
When you become a regular bidder, you'll get used to the idea of tracking how many bids your competitors place and will provide you with a better idea and strategy on winning auctions on the DealDash site.
Advantages Of DealDash
The advantages of DealDash are:
Free shipping, meaning you only get to pay the product's final price.
You can get branded products at a lower price.
You can get the spent bid money back once you buy the item. Or you can earn them through different ways, such as filling up the time meter on your account or leveling up your DealDash account.
You can manually bid or automate with their bid buddy feature to have a completely hands-off approach.
Disadvantages Of DealDash
The cons of DealDash are:
DealDash is not available worldwide. It's limited to the United States.
Keeping track of how much you're spending on the products can be hard, because the prices of the bids change and you buy bids in packs.
If you don't win the bid and don't buy the item, you're giving away the money you spent on bids that you can't get back.
Is DealDash A Scam?
DealDash has been in the trading industry for years, and people are still not sure what they think about the platform. With the various criticisms they receive, people are referring to DealDash as an online gambling site. Why is that?
That's because people are losing more money on bidding items instead of winning. Just because you lose money does not mean it's a scam. However, regardless of all the bad reviews, the rules and regulations of the auction are written on the website. Which people should be aware of before getting involved.
DealDash has made a feature to rebut their criticisms with the "Buy It Now" button. This will help their users to buy the products despite losing on the bidding items. But is DealDash a scam? No.
Therefore, to avoid losing money on DealDash, you have to limit the bidding and focus more on buying the items or look for other ways to get the item at a lower price.
Keep in mind that DealDash refunds your money on the first bid if you're not satisfied. People are also saying that it's pretty addictive and makes you spend more of your time on the site.
If you are still unsure about auctions, there are other ways where you can buy and sell things where you can earn and save money as well. There are sites like Craigslist or Letgo to post your items on sale or look for bargains. Also, you can flip things for profit by decluttering your house. Use platforms like Decluttr if you want to sell stuff, specifically electronics.
Is DealDash For Me? DealDash Review
DealDash is a legal auction website where you can sell or buy different items such as antiques and memorabilia, appliances, gadgets and devices, gift cards, and more. Start by creating an account and checking the listings. If you find items to your liking, purchase bids, then place your online bid.
DealDash has many features provided for you to enjoy your bargain to the fullest such as Bid Buddy (automated bidding), the free bids, and the different payment methods accessible. This site was created to make your online auction experience as easy as possible.
You can just place your bets and then wait for the time to be over, and if bidding is not your choice, you can also buy the item regularly without the hassle of waiting. DealDash is indeed an entertaining website with a limited smart option of discounts.
Whether you enjoy auctioning or not, DealDash is the site to go if you are looking for branded items at a lower price. If completing tasks and earning badges makes you feel great, then this site is a must-visit.
Start bidding with DealDash now!
Marjolein is a financial consultant who has built over €4,000 monthly passive income and saves over 70% of her income. Read Radicals' inspiring story, from stuck in the 9-to-5 to loving life. Feel free to send Radical a message at the bottom of this page